Second post on my blog for April now, not much longer till may now.
Well i am going to get into this post right now it could be a bit longer then my normal ones but i hope you enjoy it and my blog. Here goes......Not much has happened in my garden been to wet havent even order my seeds yet i have them all sitting on my seed order account but haven't bought them yet so to speak hopefully i get that done soon.
We lost our Rhubarb Patch over summer it is before we lost it. We ended up just rebuilding it with slippers and add goat poo to it, ended up filling the bed up with some free rhubarb crowns i got.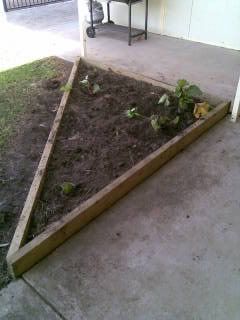 Where i got the Rhubarb crowns from (our Neightbours up the road) i also got this Guava tree from its not like the one we have already our old one is a StrawBerry Guava and this on is yellow and looks like a pear.




Also will be getting a few Bannana trees from up there as well, the lady up there she is nice to me lets me pick up cow poo out of her paddocks, good place to swap some up there she lives by herself.